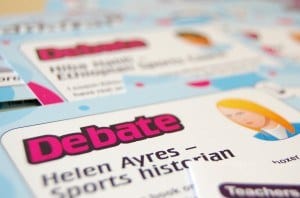 Doping in sport usually means the use of performance-enhancing drugs, but is can also mean techniques like 'blood-doping'.
"Drugs in Sport" the fifth in the series of free I'm a Scientist Debate Kits explores the ethical issues around the use of drugs in sport such as possible harm to the athlete and unfairness.
This set of 8 characters will get students exploring the differences between different types of drugs and discussing their effect compared with non-drug techniques of improving performance.
To get your free copy of Drugs in Sport fill in the form and we'll send you one in the post (UK and Republic of Ireland only).
What is a Debate Kit?
The thinking behind the kits is that, for very sound reasons, the post-2006 GCSE curriculum calls for far more debate and discussion in science. However, simple-to-use and effective resources to support this are lacking. As it's a relatively new requirement, many teachers feel unequipped to facilitate discussions and told us that students often lack the skills they need.
These kits are designed to plug that gap. They give a teacher everything they need to run a debate on a set topic and help their students develop their discussion skills. The activity provides a structured way to start discussions and gets the students engaged in thinking about contentious science issues. Using eight characters, with different points of view, allows us to introduce issues from many different angles – ethical, social, economic, political. Young people consider and weigh up these questions in an integrated way.
Do they work?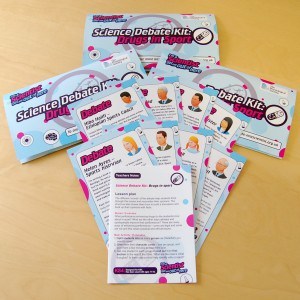 We think so. The School Science Review seems to think so. 98% of teachers who responded said they would recommend the kits to a colleague.
The kits are simple to use. We have produced a clear 50 minute lesson plan to be used with secondary school students of any age. The character cards are structured to help students develop on position on the question posed over time without leaping to an immediate conclusion.
Sign up to receive your free copy and find out for yourself.

How can you send these out for free?
Drugs in Sport is sponsored by The Physiological Society. Through its educational website, www.understanding-life.org. The Society provides interactive resources and competitions to enhance physiology teaching at ages 11-19 as well as information on physiology-related careers. Bringing together over 3,000 scientists from more than 60 countries, The Society also offers schools the opportunity to engage with scientists online, in the classroom or at universities. For further information, please email education@physoc.org.
We are also very grateful for the knowledge and advice given generously by Dr Charlotte Haigh and Dr Dave Lewis of the Faculty of Biological Sciences, University of Leeds.